Presentation
Atelier Jean Regniers is a sheltered workshop where disadvantaged but very motivated workers work normal working hours for normal salaries, thereby enabling them to foster their personal development through full integration in the civil society.

Created in 1968, by the Belgian National League for Cerebral Palsy (Ligue Nationale Belge d'Aide aux Paralysés Cérébraux founded by Baronness Evelyne Drory van den Eynde ) AJR provides adapted work to all its workers taking their respective skills into account. Our raison d'être lies solely in the will to provide a job to as many disadvantaged people as possible.

AJR has been steadily growing since 1968 and today employs more than 300 people, thanks to the continuous reinvestment of all our profits in the modernisation of our production tools and in the creation of new jobs.

Our products are of the highest quality, are sold at competitive market prices and are certified. Nothing distinguishes us from our non-social competitors apart from the full reinvestment of our profits in our social goal.

Atelier Jean Regniers ranks among the leading enterprises in Wallonia since more than 50 years.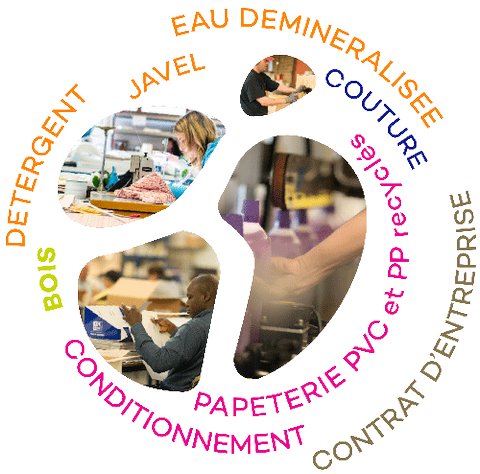 History
Our neighbour the Centre Arthur Regniers was inaugurated in 1963, 9 years after the creation of the Belgian National League for Cerebral Palsy. By 1968, experience had shown that physically handicapped people could not be professionally integrated in a normal economic context. It thus appeared natural to the League to start a sheltered workshop with the desire to go beyond finding a simple occupation to handicapped people but to integrate them in a profit-making enterprise.
The main dates
1968 : August 11th opening of AJR with 11 workers and 3 main business units: packaging, plastics and pallets.

1972 : Queen Fabiola visits the workshop. Our turnover is above BEF 15m ( Euros 375k) and we employ 106 workers. We expand the land we occupy by 800 sqm and become a member of the Belgian Federation of Chemical Industries.

1973 : Three units, for the employment of very handicapped people, are created: office works, sewing and small packaging.

1974 : The plastics section is developed and the warehouses are expanded.

1979 : Centre Arthur Regniers is handed over to the Hainaut Province, while AJR remains private (belonging to the non-profit Association des Paralyés Cérébraux).

1982 : Opening of the Liquid Detergents unit.

1983/1984 : 10 000 sqm of new buildings are erected on 5 Ha of land. A computer system is put in place, particularly for inventories management. AJR takes care of its own transports.

1986 : The production of household bleach is automated and the plastics section is modernised with the arrival of new automatic welding machines, bringing faster working rhythms to which staff had to adapt by following appropriate training sessions.

1988 : AJR has a workforce of 250 with a turnover of BEF 500 m (Euros 12m). Our founder Baronne Evelyn Drory van den Eynde dies. Jean Regniers dies 6 years later.

1995 : A new building is erected for the Detergents unit. The Household Bleach unit obtains the ISO 9001 certification.

1996/2010 : The AJR is well integrated in the neighbouring village's social life as well as in the province. Turnover peaks at € 25 millions in 2004, generated by 320 workers.

Beginning of 2000, 4 Ha of land were purchased to increase the stocking capacity of raw materials and finished products.

Latest investments: 2 pallet dryers were bought with the help of European Funds; a heating installation fueled with wood and cardboard waste was installed as well as a new fully automated pallet producing line.