Welded PVC and PP articles department
Presentation
This activity was started in 1972 by investing in a Polyethylene transforming machine.

We later expanded in PVC processing and opened a graphics division in 1984.

We produce articles for the world of photography since 2003 and our packaging took its current form in 2006.

In 2007 we enlarged our stocking capacity for raw materials and finished products.

We are currently able to stock the equivalent of 2000 EPAL pallets, on 2000 m2
Our products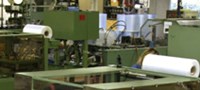 We produce and package office and school supplies in PVC and Polyethylene for wholesalers and retailers selling under their own brand in Belgium, Holland and France. Perforated folders in A5, A4 and A3 sizes, document-sleeves, simple, double and triple cases up to A6 size, are some of our most popular products.

We also manufacture everyday-use, advertising and customised products for regular end-user clients and various one-off campaigns. Typically, we'll make tailor-made files and ring-binders, bank card holders, bank statement folders, document holders for the automobile industry, for hotels and restaurants and for funeral parlours, filing envelopes, mouse mats, desk blotters, presentation folders, filing boxes, diary and notebook covers, luggage label holders, self-adhesive folders, …, which can all be printed on demand.
All our machines can be adapted to produce small or large series and are equipped with big size plateaus enabling fast productions. We also hold a large inventory of electrodes of various sizes.

AJR has built throughout the years a strong know-how and has considerable experience in project study and design. We are able to accompany an advertising campaign from its initial design to its final completion, while our packaging section will condition your items exactly as per your requisites (film packing, piece assembling, box assortment, …).